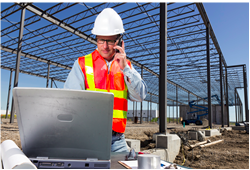 The construction industry is a powerhouse, adding more than $900 billion to the US economy in the first quarter of 2020, then disaster struck. COVID-19 caused a massive slowdown claiming almost a million jobs and over $60 billion of revenue. Obviously, companies exposed to COVID-19 affected segments were hit harder, but that wasn't the only determination of weathering the storm. Companies that could react to the changing realities on the ground through capitalizing on advancements in technology to meet the needs of a diminished workforce and lower overhead costs seem to fair much better. While this wasn't the only factor, there are significant trends occurring in the industry and much room for optimism.
Here are some articles worth reading about.
Digital Builder: 20 Top Construction Trends for 2021
Technology & Data Trends
Over the last few years, many leading construction firms have taken on new technology and increased their attention towards things like digitization as central to their work. COVID-19 has only accelerated the use of technology and digital workflows in the industry. For 2021 and beyond, this opens the doors to even more opportunities for businesses to reimagine how they utilize technology and data to build resiliency through virtual collaboration, AI, and machine learning. Businesses have more data than ever before; we will see a significant increase in firms taking advantage of this new information and creating more core competencies around data, analytics, and business intelligence.
"Data interoperability will be key to building business resiliency in 2021 and beyond. Interoperability means the ability for different project delivery stakeholders to effectively communicate and streamline information flow between one another, which is essential in the digital age of construction. A common data exchange (CDX) framework allows project teams to define the interoperability requirements that will unlock machine learning, and AI." – Nathan Wood, Chief Enabling Officer, SpectrumAEC
Read the Full Article at Digital Builder.
Coronavirus Fast-Tracks Tech, Culture Innovation
This article was originally posted approximately five months ago, but even more relevant today for those who missed it. After a year of dealing with COVID-19, the world and, in particular, the construction industry is finding new ways to integrate technology into daily operations, permanently changing how we work for the better.
As more contractors and organizations have made the switch to the cloud to support scalable and remote technology infrastructures, Stephen Franchetti, vice president of IT and business technology at Slack, predicts reintegrating applications will be the next wave of modernization.  Transformation around correcting the fragmentation of work caused by the explosion of SaaS applications is on the horizon, he said, speaking during a MIT Sloan Digital Learning Series event.
Innovative tech will likely be at the forefront of further transformation for internal and client-facing IT processes, even as the pandemic fades. Automation and artificial intelligence are meeting customers in the digital age and have become one way to reduce human-to-human interaction at a time when in-person help is difficult to realize. 
IT teams should continue "to make sure that the tech wasn't just enabling the basics, but it was actually allowing us to be innovative as well," said Graham Wilkinson, executive vice president of product strategy and innovation at Kinesso, on the panel.
It's also accelerated technology adoption.
"As bad as this situation is, it's also pushing the industry forward into a better place," said William Sankey, CEO of New York-based data analytics solutions provider Northspyre, which helps predict and manage the impact of unplanned changes on project costs and construction timelines. "Maybe where it would have taken seven to 10 years to catch up to where the finance industry is in leveraging data, I think that transition will now be underway in the next two to three years."
Read the full article at Construction Dive.
---
About Gadzoom
Gadzoom enables you to generate important documents in minutes, giving you the freedom to run and manage your business without all the headaches that come with administrative responsibilities. Our company was born to make construction document management as streamlined as possible. Create a variety of government compliant safety and administrative documents at the touch of a button. If you're interested in learning more, visit our site today.