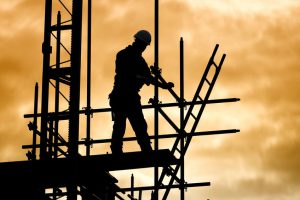 Putting together an Activity Hazard Analysis can be tough. Each one takes knowledge, research, attention to detail, and demands a lot of your time.
These are precious hours that could be spent instead on the job site.
Construction managers often point to building an AHA as one of the most labor-intensive administrative tasks, draining resources and limiting eyes-on site management activities.
After all, who likes sitting at a desk when there's work to do, right?
From listing out each and every step that's necessary for the job, identifying any potential hazards to your workers, and then developing controls for each along with EM 385-1-1 references for each control, there's a lot that goes into putting together a document that meets your owner's tough standards.
At Gadzoom, we hear you and have a solution. With our automated software, putting together an AHA will take less time than loading a staple gun. Here's how:
Step 1: Select Your AHA Template and Options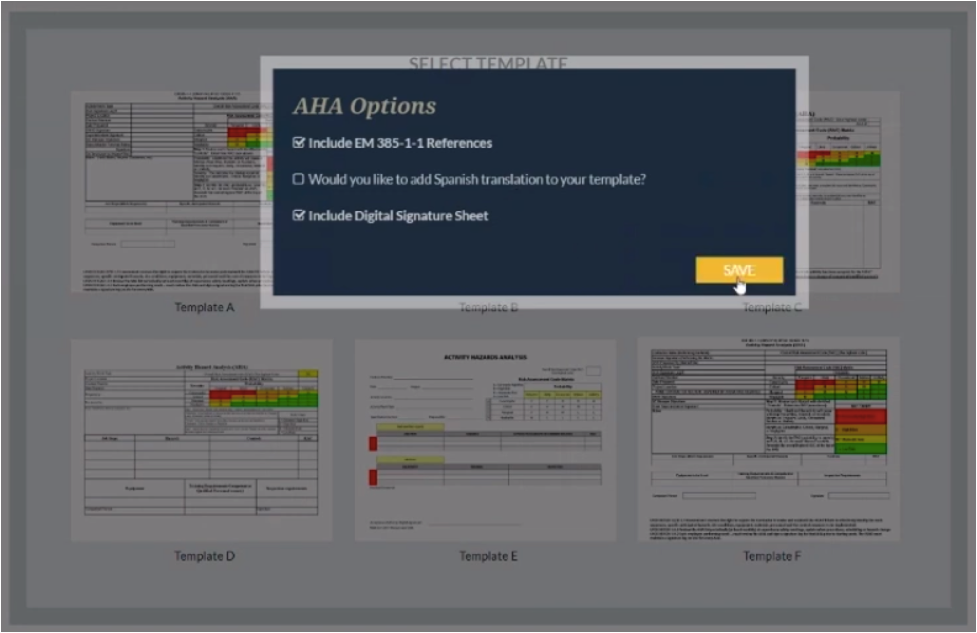 The most important part about your AHA is that it gets accepted by the government or commercial entity you're submitting it to. Our program lets users select one of six different OSHA and EM 385-1-1 compliant templates that will meet the strict standards put together by construction regulators.

During the same process, you'll be prompted to indicate whether you'd like handy additions like references, a digital signature sheet, or a Spanish translation added to your template.

It's as easy as the click of a button!
Step 2: Select Your AHA Type And Specifics
We recognize that every job has its own unique components to factor in.
Our extensive library gives you all the tools you need to effectively communicate your project's requirements each step of the way.
First, select expand from the full 48 Division CSI code format to find the activity you'll be doing, i.e., Site Surveys, Concrete Forming, Painting, or any number of other activities.
Next, simply click on the steps, tools, and equipment that you'll be using to accomplish it.
You'll even have the option to add some custom steps in case you'd like more specificity included in the document. From there, it's just about inputting project information like the contract number and project location, and you're well on your way.

Step 3: Preview And Generate Final Document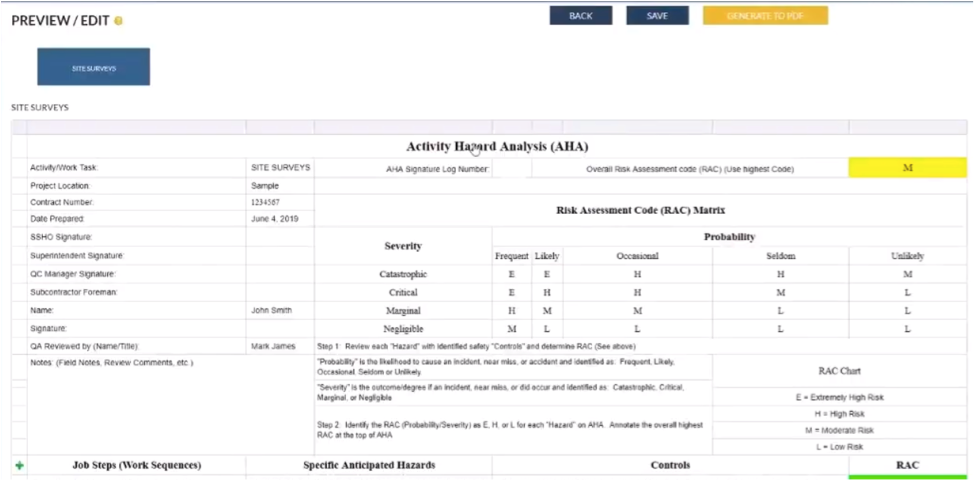 Once you're done selecting the requirements for your AHA, all that's left is the preview process.
Our program will give you an in-depth overview of the document that allows you to check everything for accuracy before finalization. See something you missed? You can easily click and edit each field so that it's completed to your liking. Just like that, you're done! Generate your final document and take advantage of the time you just saved.
With Gadzoom, putting together an AHA doesn't have to be hard. You'll be able to build dozens of them in minutes from our extensive library, making this task much faster and improving your bottom line.
---
About Gadzoom
Gadzoom enables you to generate important documents in minutes, giving you the freedom to run and manage your business without all the headaches that come with administrative responsibilities. Our company was born to make construction document management as streamlined as possible. Create a variety of government compliant safety and administrative documents at the touch of a button. If you're interested in learning more, visit our site today.